Sometimes, running just sucks.
Sometimes you just feel like crap and you want to quit and cry and stuff your face with Bojangles chicken biscuits.
Sometimes you ask yourself why the fuck you're doing this in the first place and you feel like a damn failure.
Sometimes, running just sucks.
That's how I felt during my most recent 5k, which, oddly enough, was to benefit an afterschool program designed to empower girls and help them grow into strong women.
I felt far from empowered.
The race came at the end of a particularly rough week, fitness wise. The holiday weekend threw off our grocery schedule and I bought lunch most of the week. The weather wasn't too great so I only got one run in and it was only a mile before it started to pour. I got some weight training in, but the lack of sleep kept me from giving it my all. I found myself yawning and falling asleep between sets.
On top of all that, I gained back two pounds, once again putting me in this battle with the same five pounds that I can't seem to shake.
With about 2,000 people registered for the race that included many, many children, I found myself in the front of the group with the rest of the competitive runners. Normally, I put myself towards the back because I'm slow and I guess sort of a safety hazard for people who are faster. For the sake of my emotional stability, I should have done that again.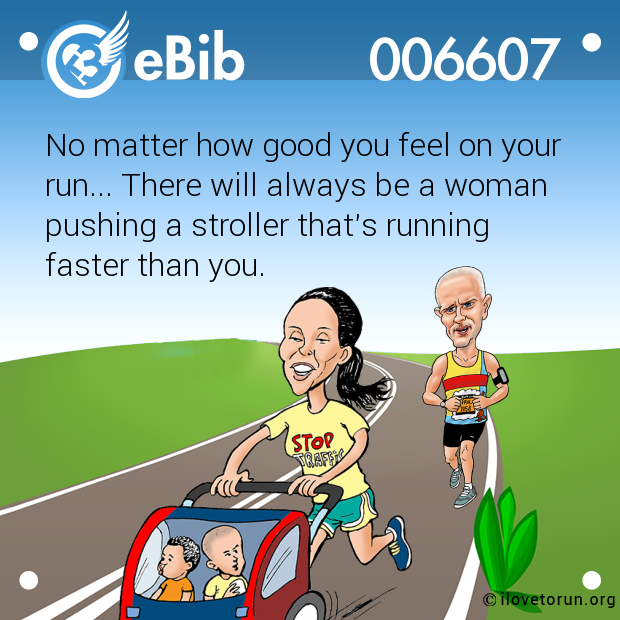 It didn't take long for the stroller parents to catch up, despite having started after me. I simultaneously hate and admire stroller parents. I am in absolute awe of anyone that can run while pushing a stroller. Your fitness level is something that I strive for. I was once that stroller baby, my mom carrying me and a stroller down the three flights of steps of our Queens apartment so she could go jogging.
I WANT to be the stroller pusher one day, but man, you guys really know how to make one feel like a fat piece of shit. And, it's not your fault. This is completely my issue and my own self-consciousness and blaming you for my feeling fat and out of shape is totally unfair. Often, stroller parents are inspiring, but on that day, they were not.
Soon, after the stroller parents passed, I started to see the children run around me. There's nothing like having a 10-year-old run past you, clearly not struggling as much as you. Even when they slow down to walk that quick sprint put them so far ahead that they'll finish 15 minutes before you. Imagine watching dozens of kids and their parents run around you, their little legs propelling them forward.
It becomes this, "wow, I really suck" moment.
Feelings like that are pretty irrational when you think about it, but they're feeling nonetheless, and they can have a really bad effect on your psyche as you attempt to do something challenging.
Suddenly, everything I felt bad about just came to a head. I became angry at myself for not having the discipline to eat right. I felt like a failure because by this spring I planned to be down 25 pounds to a mid-point goal, but I've essentially been the same weight since December.
Instead of focusing on the fact that I was running a 5k, had lost a consistent 12 pounds, and made vegetables part of my regular diet, my mind swirled around all of my failures.
As my calves burned and I tried to breathe through the third cramp in my side, I just wanted to stop. I just wanted to quit. I just wanted to say fuck it. There was no song on my playlist that could give me the bump I needed.
I kept going because I knew that I'd feel even more like shit if I didn't. I'd end up losing it in the middle of some Durham neighborhood in front of 2,000 people and I'd feel like an ass.
Then, as I entered the last half mile, my feet started to go numb, which has never happened before and suddenly I wondered if this was some sign that I was going to pass out. I kept going, finished the race and found C in the crowd. He listened as I let out all my feelings, allowing the tears to come, thankful that my red face would hide how upset I was.
Despite how terrible I felt, my race time didn't really suffer that badly.
I finished in 39:51 for an average pace of 12:55 per mile.
In March, I hit my best time finishing in 38:54 for an average pace of 12:32 per mile.
I wish I had some inspirational ending for this post, but I really don't. Sometimes feeling like shit is just feeling like shit and isn't the epiphany you need to fix whatever it is that's keeping you from accomplishing your goal.
A day later, I don't really feel inspired. I don't feel like saying, "Suck it up, Monti" or any other self-affirming kick in the ass.
It's more like, "Well, that sucked. Tomorrow is a new day. Start again and try your best."
So, tomorrow is a new day. I'm going to start again and just try my best.